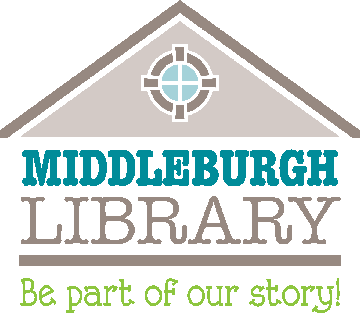 Hours of Operation:


Monday: 1:30 - 8:00
Tuesday: 10:00 - 8:00
Wednesday: 10:00 - 5:00
Thursday: 10:00 - 8:00
Friday: Closed
Saturday: 9:00 - 2:00
Sunday: Closed

​
View the 2022 proposed budget
​
Qualified voters of the Middleburgh School District will vote on the 2022 library budget on Tuesday May 10, 2022 from 12:00 - 8:00 in the Community Room of the Middleburgh Library.
​
We have three candidates running for open seats on the library board.
​
Sarah Beekman and her husband have lived in Middleburgh for over 30 years. For the last six years, Sarah has worked for WIC (Women, Infants, and Children) in Cobleskill, which is run through SCCAP. Before that, she was Program Coordinator for Literacy Volunteers of Schoharie County. For several years, she was a stay-at-home mom to her two now-grown daughters who attended, and graduated from, Middleburgh Central School.
As far as volunteerism, Sarah has previously been a member and president of Century Club, member and leader of Schoharie County La Leche League, was on the Strategic Planning Council of the Middleburgh Central School district and also volunteered in classrooms and ran the 1,000 Book Club, been a literacy tutor, lead the monthly book discussion at the Middleburgh Library, and been a docent at the Best House. Sarah also served as a member of the Board of Trustees of the Mohawk Valley Library System, which oversees 14 member libraries, including a term as its president.
Additionally, Sarah has previously served on the Board of Trustees of the Middleburgh Library, for 10 years, including a term as its president. She was chairman of the search committee that hired Terry Pavoldi, Middleburgh's library director. Sarah would love to return to the Board to again support Ms. Pavoldi in her efforts to provide quality programming and services for our library patrons.
​
Scott Kiedong is a graphic artist, illustrator, copywriter, photographer, marketing consultant, fine artist, and lifelong library junkie.
He has coached Odyssey of the Mind at Middleburgh Elementary School, taught graphic design at SUNY Cobleskill, and has served on the board of directors of The Fox Creek Nature Center and the Schoharie Arts Council.
He has worked for ad agencies as art director, graphic designer and production manager, has worked as a staff or freelance photographer for weekly papers in New Jersey and in upstate New York, and as art director and photo editor for the now - defunct Daily Editor newspaper in Cobleskill. Currently self-employed, Scott supplies creative services to a diverse client list through his company Scott Keidong's Image Enterprises, and photographs sports and other events for the Mountain Eagle and The Times Journal newspapers.
Some of his work can be seen online at www.flickr.com/photos/keidong or at http://scottkeidong.carbonmade.com.
​
Marilyn Wyman has lived in Middleburgh almost 20 years. She retired from Cornell Cooperative Extension and has served as Middleburgh Library Trustee for 5 years. She and her husband Rick love reading.
​
​
​
​
​
​
​
​